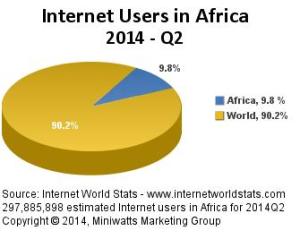 Your are able to present your products and services to millions of Africans from a range of demographic segments.
The middle and upper-class people access the web and social media via their own computers or mobile devises.  The majority view them in Internet Cafes.  The African population that use the Internet currently make up close to ten percent of the global users of the Web.
Just like all Internet-based businesses and businesses with an Internet market wing, you must know your audience.  That is no simple matter considering the differences between African countries and ethnic groups.  The way business is conducted and regulations governing sales transactions and the logistics that come into play for delivering your products can be challenging.  Whereas there are thousands of people who can help a business understand American and European, even Asian cultures, there are very few who really understand African people and the African marketplace.
[cta id="1591″ align="none"]
 Before you spend any more advertising or web-design dollars targeting an African audience, consult with experts who understand the African worldview.